Welcome to
​The Community Garden Club at Wayne
P.O. Box 322
Villanova, PA 19085


We meet on the first Thursday of the month from September to June.

The NEW Radnor Library has reopened!
It will be wonderful to hold our programs once again at the library.

Please note:​
Because the library now closes half-an-hour earlier and we need to leave before 8:30,
the meet and greet will start at 6:15 and the program promptly at 6:45.
​
Everyone is welcome!




---
Be sure to like us on our Facebook Page
---
​

******2018 - 2019******
All our regular monthly meetings are shown in red, and meet on Thursday evenings at 6:15 in the Winsor Room at the Radnow Memorial Library (unless otherwise noted in the write-up). Activities shown in green are Community outreach projects. Their times and locations are shown in the description.

​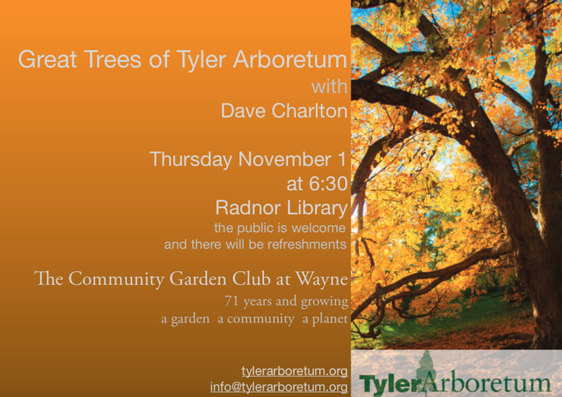 Thursday, November 1, 2018

Great Gardens of the Delaware Valley
Dave Charleton
Tyler Arboretum



​
The Delaware Valley encompasses three states and approximately seven million people call this area home. It is also one of the richest areas for public gardens in the U.S. Join Julia as she takes us on a tour of some of these gardens from estates to museum grounds and much more. Introduced by Ann Higgins, program committee.


Sunday, November 18, 2018, 2:00pm
The Bird and Butterfly Garden: Putting it to Bed
Bring your rakes to clean up leaves and prepare the garden for winter, and remember,
​many hands make light work!
Location: The Radnor Trail by the Wayne Art Center, 413 Maplewood Ave. Wayne, PA
Coordinated by Pat Riley


December, 2018
dates and times to be announced

A Victorian Christmas at the Finley House
The Club will decorate the interior rooms of the headquarters of the Radnor Historical Society. Location: 113 W. Beechtree Lane, Wayne, PA Flower arrangements by Terry Boyle. Coordinated by Evie Gienerich

Holiday Decorataions at the Radnor Memorial Library
The Club will once again put up hoiday decorations at the Library.
Location: the Radnor Memorial Library. Coordinated by Evie Giegerich with Anny Laepple and Pam Sedor of the library.


Wednesday, December 5, 2017 at 6:30 pm
Annual Holiday Dinner and Auction
The Holiday Dinner supports the Club's many community outreach projects. We will get together again at Overbrook Golf Club, 99 Godfrey Rd, Villanova.
Members and their guests only.
Coordinated by Pegg Ewing and Kay Mooney.


***** HAPPY GARDENING IN THE 2019 NEW YEAR*****


Thursday February 7, 2019
Valentines for Venerable Elders, a Community Outreach Project
Cabin fever, the skies are gray.
Spring feels so very far away.
Let's get some dirt under our nails. We will be potting succulents in attractive containers
to be delivered to the Wayne Senior Center and the Wayne Center of Nursing. Join in
making Valentines for our venerable elders and sending our Club's love. We will also
make pots to take home.
Led by Theresa Baldwin, program committee.



Thursday, March 7, 2019
Picks and Pans for Your Garden
Stephanie Cohen
Cosponsered by the Radnor Memorial Library

A recipient of many awards, sought-after lecturer, and author of several books, Stephanie will take a look at old favorites, new favorites, some underused, and those that the "Perennial Diva" calls troublemakers for gardeners. She will tell it like she sees it and let the mulch chips fall where they may! Stephanie has taught herbaceous plants and perennial design at Temple
University for over 20 years and is the former director of the Landscape Arboretum at
Temple University. Her The Perennial Gardener's Design Primer will be available at
the book signing which will follow her talk.
Introduced by Pam Sedor, Radnor Memorial Library and Evie Giegerich, program committee.


Thursday, April 4, 2019
Herbs, Plants and Flowers of the Civil War Era
Kathryn Finch
Memberof the Bucks County Civil War Round Table
Cosponsored by The Wayne Woods Garden Club
Dressed in the style of the era, Kathryn will speak about the history of horticulture of the
​time period.
Introduced by Debbie Dooling, program committee.


Thursday, May 2, 2019
Gardening for Social Change
Nicole Juday Rhoads
Pennsylvania Horticulture Society
Nicole will highlight inspiring local examples that show how horticulture can be successfully used as a tool for community development, improving neighborhoods, providing educational opportunities, promoting the health and well-being of citizens and addressing food insecurity. Introduced by Kathy Techner, program committee.

​
Thursday, June 6, 2019
Annual Spring Business Meeting and Dinner
Members and their guests only. Welcome by the Club's Board. We will gather at Christ Church, Ithan.
Coordinated by Pegg Ewing and Toni DeGeorge.


Thursday, June 20, 2019
A Visit to Stoneleigh, a Natural Garden
For nearly 80 years, Stoneleigh was the home of the Hass family, which donated the property to Natural Lands in 2016 so that it would remain preserved forever. The property includes stately tree, winding pathways, and lush gardens that were designed by a number of notable landscape architects over the past century—including the Olmstead Brothers, sons of the famed Frederick Law Olmsted.
Coordinated by Ann Higgins, program committee.
---