Serving the Wayne, Pennsylvania area since 1947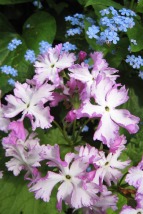 Welcome! Our organization was founded in 1947 as an independent garden club for the hands-on gardener. The mission of our club is to:
- Encourage and develop the interest and knowledge of
the members in all phases of horticulture and gardening.
- Promote and enhance our natural environment and participate
in the preservation of our native plants, trees and bird life.
Benefits of membership include informative monthly meetings from September through May, held at the Radnor Memorial Library, featuring expert gardeners. We hold an annual Arbor Day Observance at Jenkins Arboretum, decorate the library at holiday time, hold plant exchanges and field trips. The Wayne Senior Center, Wayne Train Station and the Radnor Trail are all beneficiaries of our gardening skills. An annual Plant Sale is a popular event that helps to fund our horticultural community projects. There are fun, social events including an annual Holiday Dinner and a Spring Picnic. We participate in the Memorial Day Parade in Wayne each May.
If you are interested in broadening your knowledge and skills as a gardener and cultivating new friendships, you are cordially invited to join or visit
The Community Garden Club at Wayne
. Please see the
Contact Us
page for details.
a garden ~ a community ~ a planet
---