THE HORTICULTURAL CORNER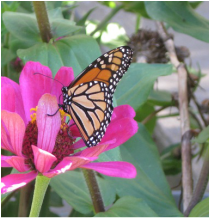 Native Plants and Invasives
The statistics for wildlife habitat in the lower 48 states are abysmal. 54% of the land is taken up with cities and suburbs. Another 41% of the land is used for agriculture. That leaves a mere 5% for non-human use, for wildlife, native plants and animals.
Native plants are those that were here before the arrival of Europeans. They evolved in this climate and environment and are therefore most compatible with this location. Being well adapted for the amounts of rainfall, the soil quality, other plants, animals, and insects, they need less resources to survive and thrive. Since plants and wildlife evolved together, they are often co-dependant. Many insects need a limited range of specific plants to survive. When invasive plants take over and crowd out native ones, then insects that depend on them don't prosper, and birds that feed on those insects fail, and so on through out the ecosystem. An obvious example is the monarch butterfly. While the butterflies gather nectar from many plants, their caterpillars feed only on the milkweed plant. As humans develop more land for their own use, at the rate of about 2 million acres a year -- about the size of Yellowstone National Park -- milkweed becomes a scarce commodity and monarch numbers decline. (Happily, I just read that the area covered with monarchs in their wintering grounds in Mexico has increased in the last year or two, although still considerably diminished from 25 years ago.) One obvious solution is to plant more milkweed for the caterpillars.
Another interesting example of this symbiotic relationship between plants and animals is the mayapple and the eastern box turtle. Mayapples are declining, in part because of loss of habitat, and in part because there are fewer eastern box turtles. A very small percentage of the fruit of the mayapple actually germinates on its own. However, the turtles love the fruit and gobble them up. After the seeds go through the turtles' digestive tract a much higher percentage germinate and grow into new plants. But as box turtles disappear, so do new mayapple plants.
Not all non-native plants are invasive. Think of tulips and other spring bulbs which arrived here from the middle east via the Netherlands. Invasive species are ones that spread like crazy, and since they are not native they often have few if any enemies, giving them an advantage over native plants. We've all enjoyed sucking the sweet nectar out of honeysuckle flowers, but these fast spreading climbers from Japan quickly crowd out native plants. Loosestrife, beautiful as it is, is another example of an invasive, one that clogs our waterways and wetlands.
A relatively new and dangerous threat is garlic mustard that not only out-competes local plants for resources, but actually secretes chemicals into the soil, making it toxic to them. In addition it is poisonous to caterpillars reducing butterfly populations. Garlic mustard is a biennial; the first year it forms clumps of round slightly wrinkled leaves that smell somewhat like garlic. The second year the plants grow up to 4 feet tall and produce small clustered white flowers with four petals, blooming in mid- to late-spring. Spring is the easiest time to pull the plants which should be bagged and disposed of, not composted. Alternatively, one could eat them! Invasivore.com is a website devoted to recipes for many different invasive species. [
http://www.invasivore.org
]
Here in Pennsylvania over a third of all plant species are invasive. So we as gardeners should be mindful of what we plant and aim for native species as much as possible. One of the goals of The Jenkins Arboretum in
Devon, PA
is to educate people about the use of native plants. [
http://www.jenkinsarboretum.org
] Another source is Bowman's Hill Wildflower Preserve [
http://www.bhwp.org
] which has a native plant sale in May.
---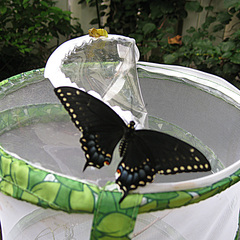 Butterfly Gardens
The Community Garden Club at Wayne has now undertaken a new project — that of maintaining the bird and butterfly garden on the Radnor Trail opposite the Wayne Art Center dedicated to Elizabeth Chew Bennet, a life-long Radnor resident.
Butterflies are fascinating insects, and following their life cycle is intriguing. Creating and maintaing a garden for them is not only beautiful but also good for the environment. Butterflies play an important role in pollinating flowers, but due to insecticides, loss of habitat, and the introduction of more exotic plants, their numbers are decreasing. For instance, there are fewer monarch butterflies east of the Mississippi, in part due to fewer and fewer milkweed plants. With more housing, shopping centers, and other encroaching civilization, wild areas with abundant milkweed disappear. Monarchs only lay their eggs on milkweed since that is the only food their caterpillars eat. In fact, all caterpillars are very particular about what they eat and have very limited diets. A butterfly garden must, therefore, not only have flowers full of nectar for the adults, but host plants for their offspring.
Some of the requirements for a good butterfly garden include lots of sun, as well as sheltered areas to protect the insects from wind, cluster plantings of both nectar flowers and host plants, perhaps some rocks for the butterflies to rest on and enjoy the sunshine, wet patches or puddles, and of course, minimal or no use of pesticides.
Nectar plants are quite numerous. Butterflies generally like groupings of bright red, orange, pink, purple or yellow flowers. While butterfly bushes do attract butterflies, they are considered invasive and so should be used only sparingly. Host plants for the caterpillars are much more specific to the particular butterfly. Swallowtails, both black and yellow, for instance, only like curly leaf parsley, mint, or dill.
For more details about local butterfly species and suggestions for specific plants, check out the Penn State Extension's website, "Gardening for Butterflies."
http://extension.psu.edu/natural-resources/wildlife/landscaping-for-wildlife/pa-wildlife-8
---
Powdery Mildew

L

urking in the soil and plant debris or floating in the air are tiny powdery mildew spores waiting to grow on bee balm,

phlox, squashes, and many other hosts

when conditions are right. It shouldn't be confused with downy mildew that killed

off impatiens a couple of years ago. Powdery mildew appears as a white powdery substance on both the tops and bottoms of the leaves and although it's unsightly and can weaken the plants, it rarely kills them.

What can be done to prevent an attack? Powdery mildew flourishes under damp and crowded conditions. Make sure your plants have plenty of space. Thinning them really can make a difference. Water them from the bottom, usually in the early morning so they can dry off by nighttime. If the powdery mildew persists, there are fungicides you can buy, both chemical, which can harm a lot more than the mildew, and organic, which are much better for the environment. There are also less expensive home remedies using either baking soda or milk, but these seem to be most effective as a preventative.

For the baking soda recipe, mix 1 tablespoon baking soda, 1/2 teaspoon liquid soap and 1 gallon water -- and some recipes suggest adding a teaspoon of vegetable oil. Spray it on the tops and bottoms of the leaves during damp or humid weather. Be sure to test it on a small area first to make sure it doesn't burn the plant, and don't use it in full sun.

Another alternative is to mix one part milk (either whole or skim) to two or three parts water. Unlike the baking soda, this solution works best in full sun.

Summer, 2014

The End of Winter


In spite of sixty-plus inches of snow, six weeks of snow on the ground, and record cold temperatures, this winter hasn't been all bad. "What?!" you say. But, the extended cold

will

hopefully

lower the incidence of some plant diseases and

reduce the number of insects hatching out when the warm weather does finally arrive. It should destroy the eggs of the Asian tiger mosquitoes which carry the west Nile virus, of the Mexican bean beetle, and of the southern pine beetle, among others. In addition, all that falling snow picked up nitrogen from the air and deposited it conveniently on our lawns and gardens, fertilizing as it melted.





As we wait for spring, o

ne way to brighten our homes is to try forcing forsythia, pussy willows, flowering quince, and other woody shrubs. Cut branches of varying lengths and place them in warm water until you're ready to work with them. Then recut them while holding them under very hot water. The hot water holds less oxygen which will encourage the branches to hydrate more quickly, and keeping them underwater prevents bacteria from entering the stems. Arrange the branches attractively in a container and add fresh luke warm water to encourage the buds to open. This usually takes about two weeks. Adding a floral preservative will help the blooms last longer. You can use a preservative from a florist or you can make your own with ingredients you have around the house.





Four Recipes for Floral Preservative:




1) Mix together 1 tablespoon Listerine, 1 tablespoon lemon-lime soda and 1 quart warm water. 2) Mix 2 cups lemon-lime soda, 1/2 teaspoon chlorine bleach and 2 cups warm water.




3) Mix 2 tablespoons lemon juice, 1 tablespoon sugar, 1/2 teaspoon chlorine bleach, and 1 quart warm water.




Or 4) Mix 2 tablespoons white vinegar, 2 tablespoons sugar, 1/2 teaspoon chlorine bleach and 1 quart warm water.




(I tried number 3 and had cut tulips in my living room for almost a week without drooping or loosing petals.)




Late winter, 2014


Deer Resistant Gardens



Perhaps the best way to deer-proof your garden is a fence -- a very high fence, about 8 feet high. This is not always practical or attractive. So, what are other possibilities? Motion detectors spray water when they detect a critter entering their range. Some are hooked up to a garden hose while others have their own self-contained water supply. These are moderately effective but not practical in the winter. Another suggestion is sticking slim green bamboo stakes in amongst the plants to be protected so that deer have a hard time getting their heads down into the greenery to munch. Probably this would look better on the far side of one's yard rather than by the front door. Of course, a good watch dog might help.





The alternative is to choose plans that are less tasty to deer. No plants are fool-proof; when really hungry, deer will eat almost anything. In general, however, they don't like poisonous plants such as daffodils, foxglove, and poppies. Nor do they like plants with

strong

odors like sage, basil, lavender, and peonies or hairy or prickly plants such as lamb's ear.



For a fairly complete list of deer-resistant plants, try the Rutgers University website [click here]. They have a long list of plants ranging from those that are "rarely damaged" to those that are "frequently severely damaged." In the meantime, h

ere's a partial list of plants:




astilbe, bay leaf, butterfly bush, bee balm, bleeding heart, cleome, coneflower, dogwood,




dahlia, forget-me-not, forsythia, lily of the valley, mint, morning glory, mountain laurel,




onion, parsley,

pumpkin, salvia, and wisteria




Good luck!



Fall, 2013




Members' Plant Exchange

Are there plants you'd like to give away?
Are there plants
you
'
d like to acquire?
This is the place!!
Introducing a forum
for Plants to Give and Plants Wanted
Simply send a description of the plant you are looking for,
or would like to share (photos welcome). You may also email us at
plants@gardenclubwaynepa.org
We will post them on this page, and interested parties will contact you directly.